Teringat pulak masa pegi fieldtrip kat Asajaya Laut, Kpg. Buntal dan Kpg. Bako pada 8,9 dan 10 September lepas... Seminggu sebelum aku pegi Balai Ringin. Kami pergi cari Ambal (Bamboo Clam) di 3 kawasan tersebut. Tapi pada minggu tu, tak pulak hujan cam kat Balai Ringin. Panas memanjang. Sampai nak demam aku dibuatnya. Nasib ada bawak bekal ubat untuk aku. Aku kalau part berpanas ni, kalah sikit.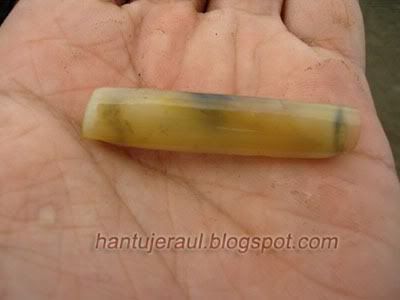 Ok, berkenaan dengan ambal tadi, dalam ketiga-tiga kawasan yang kami pergi tu, kesemua ambal yang kami dapat adalah dari jenis Ambal Kapur, atau dalam nama saintifiknya
Solen corenus.
Ambal hidup di dalam pasir yang berlumpur dan tidak terlalu keras. Jika mahu menangkapnya, kita mesti menunggu air laut surut dahulu . Dan barang yang diperlukan untuk menangkap ambal ialah terdiri daripada, Kayu (tongkat), lidi, kapur dan baldi.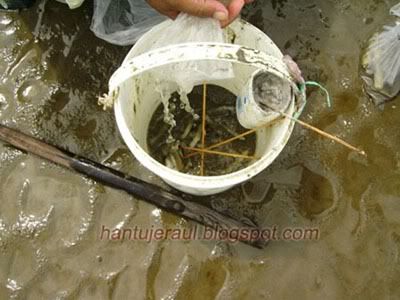 Makin kita ke gigi air mencari ambal, semakin besar juga saiz yang kita akan dapat. Tapi peringatan juga, dalam suka-suka mencari ambal, kita juga mesti tahu masa air laut akan pasang. Kalau kita tak teringat masa bila air pasang, masalah besar pasti akan timbul dimana, kita takkan sempat naik ke darat. Air laut semasa pasangnya di kawasan-kawasan ambal ni selalunya akan naik secara mendadak dan cepat.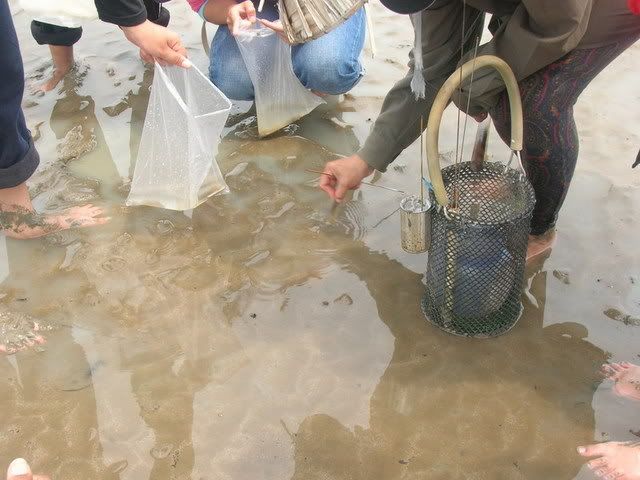 Ambal is the local Malay name for the bamboo clam, also known by a variety on nicknames, including sea needle and even (rather imaginatively) monyet punya, a coy reference to the male monkey's pride and joy.
The appearance of ambal, as described above, is not exactly confidence-inspiring. Freshly steamed, these tubular molluscs expand in their reed-like shells (hence the name bamboo clam) and burst them, leaving their bloated little bodies arrayed amongst a bed of shell slivers and fragments. But appearances can be very deceptive. In both taste and texture, ambal is unique. A distant relative of the mussel, it has a delicate, almost fish-like flavour and a texture closest to a slightly undercooked scallop.
This humble creature is found all over Southeast Asia, but is at its best in Sarawak, where its preparation has been elevated to an art form. Bamboo clams live in countless millions in the mad-flats of the Sarawak River estuary, where they filter the freshly deposited alluvial mud and sand for micro-nutrients like most shellfish. Their long, tubular shells can be anything between three and fifteen centimetres long, and they are able to stretch their flexible bodies much further out of the shell to suck in food particles. Sarawak's relative lack of industry (particularly the kind of industry that dumps heavy metals into rivers), means the local bamboo clams have a pristine environment in which to thrive. It also means they are untainted and very safe to eat, a claim that cannot always be made for shellfish in Asia.