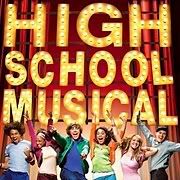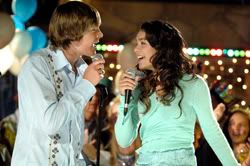 Directed by
Kenny Ortega
Writing credits (WGA)
Peter Barsocchini (written by)
Genre: Comedy / Drama / Family / Musical / Romance (more)
Plot Outline:
Troy and Gabriella - two teens who are worlds apart - meet at a karaoke contest and discover their mutual love for music.
User Comments: Campy, Corny and ABSOLUTELY WONDERFUL!!!!! (more)

Cast overview, first billed only:
Zac Efron ....Troy Bolton
Vanessa Anne Hudgens....Gabriella Montez
Ashley Tisdale....Sharpay Evans
Lucas Grabeel....Ryan Evans
Alyson Reed....Ms. Darbus
Corbin Bleu....Chad Danforth
Monique Coleman....Taylor McKessie
Olesya Rulin....Kelsi Nielsen
Chris Warren Jr. ....Zeke Baylor
Bart Johnson....Coach Jack Bolton
Ryne Sanborn....Jason Cross
Socorro Herrera....Mrs. Montez
Joey Miyashima....Principal Matsui
Dutch Whitlock....Skater Dude
Ryan Templeman....Skater Dude #2

Runtime: 93 min / 98 min
Country: USA
Language: English
Color: Color
Certification: USAG

OK pandangan aku plak..

Aku dah tengok crita ni, release date 20 jan 2006. tapi kat asia 25/6.citer ni memang best.. bagi aku lah.. tak tau plak orang lain.
Citer ni mengisahkan Troy ngan Gabriela, dua-dua memang berbeza antara satu sama lain.. minat pun tak sama. Troy pemain basketball ,Gabriela pulak.. seorang yg bijak pandai dlm sains dan mate... Dipertemukan pertama kali semasa sambutan tahun baru..ketika itu keluarga Troy dlm vacation.., walaupun dalam vacation dia dengan bapa dia tetap pentingkan basketball, (bapa dia coach basketball kat high skool dia dan bekas pemain sekolah tu juga). Balik kepada scene sambutan tahun baru... dua-dua tak menyangka terpilih untuk bernyanyi duet lagu ni " Start of Something New" Troy tidak menyangka gabriela boleh menyanyi coz cam tak bersemangat sekali.. tetapi meleset sama sekali.. begitu juga ngan Gabriela.. bermula lah detik pertemuan Troy ngan Gabriela, bertukar no tepon. Snap pic.(biasa lah tu kan).Gabriela tidak menyangka sekolah barunya adalah sama dengan Troy.. dan mereka bertemu semula semasa kelas drama...kedua2 terkejut coz pada dasarnya mempunyai minat yg berbeza boleh terjerumus ke dalam bidang nyanyian..bermula dengan audition, mereka sama-sama malu untuk mencuba kerana takut dengan apa yg akan orang kata... coz team sains Gabriela begitu berharap dengan kepandainya untuk menang pertandingan,, sama gak ngan Troy , dia dianggap sebagai "playmaker" oleh team dan bapa selaku coach nya..dalam semangat kedua-dua ingin mencuba sesuatu yg baru... Sharpay ngan Ryan berasa tergugat..(diaorang ni memang popular sebagai penyanyi kat skoll tu) walaupun dtg lewat dan ditolak oleh Miss Darbus... , setelah mendengar kelunakkan suara .. diaorang dipanggil untuk call back...tanpa diduga senarai nama callback dipaparkan kat notis board.. semua rakan Troy ngan Gabriela terkejut...rakan2 nya merancang agar kedua2 nya tidak meneruskan niat untuk menyertai call back tu..tetapi ternyata silap.. Troy dan Gabriela langsung tidak menumpu perhatian kepada tugas masing2.. dan ini merunsingkan kawan-kawan Troy ngan Gabriela.mereka memberitahu perkara sebenar kepada Troy dan Gabriela. Sharpay dan Ryan plak meminta pada Miss Darbus untuk meminda masa call back agar sama waktunya dengan pertandingan sains dan perlawanan basketball,Taylor mepunyai perancangan sendiri.. agar Troy dan Gabriella dapat mengikuti call back tersebut...dan mereka berjaya...

Nak tau lebih lanjut.. tonton je kat disney channel..citer ni punya rating yg tinggi dan akan mempunyai sequel high school musical 2 next year..Aku bagi 4 bintang.
Soundtrack untuk filem ni memang best.....tak rugi buang masa menonton citer ni.